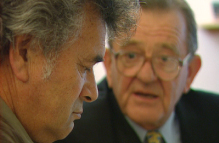 1999, 72 minutes
This documentary is a view into the crucible that forged Te Papa Tongarewa, the Museum of New Zealand, which opened in 1998. Fascinating fly-on-the-wall moments are captured as a new kind of National Museum is conceived. As political, ideological, creative and commercial considerations collide, the frustrations of decision making by committee are palpable.
 
Selected: NZ International Film Festival
You can purchase the DVD or buy / rent it online:
NEW ZEALAND HERALD - Peter Calder
July 1999
Over almost three years, from 1996 to 1998, [Gaylene Preston and Anna Cottrell] shot 600 hours of video tape in and around Te Papa. Almost all of the footage was of the meetings where the concepts were hammered out for the displays that would fill the hulking museum on the Wellington waterfront..... Most simply it is a fascinating look behind the scenes of a historic project which, as creative and commercial interests collide, has many of the hallmarks of a thriller.
CREW
Producer - Gaylene Preston
Director - Gaylene Preston, Anna Cottrell
Executive Producer - Geoff Steven
Associate Producer - Jennifer Bush, Robin Laing
Camera - Chris Terpstra, Darryn Smith
Field Directors - Anna Cottrell, Mary Daysh
Sound - Craig Mullis, Mike Huddleston
Editor - Paul Sutorius
Original Music - Jonathan Besser
Sound Design - Kit Rollings
Online Editor - Jason Stutter, Jonno Woodford Robinson
Sound Mix - The Film Unit